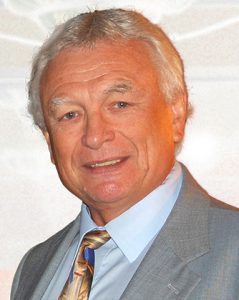 The funds of the non-profit Tabar foundation will support young physicians
who are learning how to detect breast cancer when it is still curable.
Dr. Laszlo Tabar is a visionary physician, researcher, and educator who has contributed significantly in the worldwide fight against breast cancer. In a career spanning over 40 years, he has worked tirelessly to reduce or eliminate suffering and death from the disease.
To further the mission of the Tabar Foundation, his images are now available as limited-edition prints. All proceeds from your tax deductible purchase will support the continuing research and educational work of the Tabar Foundation to fight against breast cancer.
His pioneering research has laid the foundation for early detection through modern mammographic screening. As a clinician, he has applied his expertise to the interpretation of well over one million mammograms.
A consummate educator, Dr. Tabar is responsible for the mentoring of tens of thousands of breast imagers, surgeons and pathologists worldwide. His influence is felt on every continent and there can be no doubt that his work as researcher and educator has saved the lives of hundreds of thousands of women.
As difficult as it may be to cite his greatest single accomplishment, his unceasing efforts to bring diverse medical specialties together to improve screening, diagnosis and treatment of breast cancer have profoundly influenced the current generation of physicians.
Dr. Tabar understands that future progress against breast cancer requires the integration of clinical research with the education of teams of professionals – an approach that makes compassionate and evidence-based patient care a priority.
The non-profit Tabar Foundation exists to continue the research and educational initiatives started by Dr. Tabar. The primary focus will be to reduce death and suffering from breast cancer by advancing our knowledge of the subtypes of breast cancer and their effective treatments.
Translation of our improved understanding of the types and treatments of breast cancer will be accomplished through the training of physicians and teams of healthcare professionals in the lessons learned from research.
Many of Dr. Tabar's colleagues and students may not realize the scientist-academician is also a talented photographic artist. We now have an opportunity to view his world of water, color and light as he sees it – a rare glimpse of our beautiful planet through the eyes of the scientist-artisan.
F. Lee Tucker, M.D., F.C.A.P.
Tuckerlab
Roanoke, VA